Pathways to Transforming Education in Nigeria: The Role of Private Sector Investment
Sustainable Development Goal 4 takes aim at one of the most pressing and complex issues of our time: universal access to equitable quality education. However, UNESCO's Institute of Statistics provides a sobering reality that the world is nowhere close to achieving this SDG by 2030: 258 million children and youth were out of school in 2018, while 484 million children in school are not receiving quality education. There is an annual financing gap of $39 billion for attaining universal pre-primary, primary, and secondary education in low and lower middle-income countries. In most low-income countries, less than 5 percent of people have completed tertiary education, and in five countries, the number of poor youth attending university is "not statistically different from zero."
Indeed, the lack of resources is a prevalent issue for many countries, but even countries with abundant natural resources and a path to education funding have failed to take advantage of this opportunity. Sub-Saharan Africa has the highest rates of education exclusion of any region, with over one-fifth of children between the ages of 6 and 11 being out of school, followed by one-third of youth between the ages of about 12 and 14, and nearly 60 percent of youth between the ages of about 15 and 17 not attending school, according to UIS data.
Africa has the world's lowest secondary school enrollment rates. Just 28 percent of youth are enrolled in secondary school, leaving over 90 million teenagers struggling for employment in low-paid, informal sector jobs. Today, a child entering the education system of an Organisation for Economic Cooperation and Development (OECD) country has an 80 percent chance of receiving some form of tertiary education. The comparable figure for sub-Saharan Africa is 6 percent. These statistics underscore the dire need for robust early childhood education so that more youth can access secondary and tertiary institutions.
Nigeria's Twin Deficit, a Lack of Financing and Skills
One in every five of the world's out-of-school children is in Nigeria. Even though basic education in the nation is both free and required by the law, 10.5 million children between the ages of 5 and 14 are not enrolled in school. Only 35.6 percent of children between the ages of 3 and 5 years receive early childhood education, while only 61 percent of children between the ages of 6 and 11 routinely attend primary school. The situation is considerably worse in the northern part of Nigeria, where the net attendance percentage is only 53 percent. These educational realities have grossly affected the labour market as there is an increasing out-cry for skilled workers who can match the demands of a competitive market.
Countries like Nigeria continue to underinvest in education due to a lack of understanding around the rate of returns, reflecting an expense based perspective instead of an investment-based perspective and poor political will.
Skills are moving targets in the rapidly changing world of work, making it increasingly difficult to match supply and demand. Youth are particularly affected by unemployment and inactivity, and the transition from education and training to work is hampered by a lack of demand-driven and practice-oriented training, sluggish economies, and changing labour markets. In Nigeria, about 53.4 percent of youth were unemployed in 2022 according to the National Bureau of Statistics. These inequalities have been exacerbated by the COVID-19 pandemic, which has disrupted many youths' and adults' learning as well as their mental, social, and financial well-being.
On the other hand, 69 percent of employers globally struggle to find the skilled workers they require, emphasising the importance of closing the growing skills mismatch. There are also new opportunities emerging, such as the 85 million additional jobs expected to be created in the green energy transition to achieve the 1.5-degree pathway between 2019 and 2030. Young people and adults need continuous reskilling and upskilling for rapidly changing economies affected by digitization, the shift to a low-carbon economy, and other mega-drivers of change in our economies and societies to improve employability and enable an ecologically sustainable transition.
Empowering learners with relevant knowledge, skills, and values is a path to strengthening the labour market. Closing the skills deficit gaps amongst Nigerian youth requires support from the private sector through  innovative partnership and funding  approaches.
The Case for Investing in Education
Global growth is increasingly reliant on the quality of human capital and the innovation it produces. Due to the rapid pace at which significant economic, demographic, social, and political changes are occurring, human capital investments will be crucial in the next ten years.
Evidence from around the globe over the past few decades demonstrates that investing in education is one of the best ways to create positive social outcomes.
A large percentage of the global talent pool and consumer markets reside in developing countries like Nigeria, where improvements in the quality of education can result in significant human capital dividends in the form of productivity gains and market-size growth. This lack of relevant skills is associated with high opportunity costs of "lost talents," which not only trap workers in low-wage and unstable jobs, but also limit corporate organisations from achieving broader economic prospects from improved innovation, governance, and business environments.
Opportunities for Education Investment in Nigeria
The private sector holds immense potential to significantly contribute to Nigeria's education system, spanning from basic to tertiary education. As a group, U.S. companies are already the seventh largest donor to education in developing countries, following the World Bank, the International Development Association, France, Germany, the U.S., the Netherlands and Japan. In Nigeria, thirty of the country's major corporations collectively contributed N32.4 billion to fund CACOVID, which was initiated by the private sector to support the Nigerian government in battling COVID-19. This level of corporate philanthropy was a notable increase from the N12.1 billion donated by the private sector in Nigeria in 2019. While the reasons, motivations, forms, and strategies for corporate social responsibility (CSR) and philanthropy contributions vary widely, many companies today reject Milton Friedman's argument that a business's sole social responsibility is the increase of its profits. Adopting terms like "corporate citizenship," companies have realised that working toward social objectives is beneficial to their economic objectives. Improving social and economic conditions creates better environments for a company's employees and its business operations.
Corporate philanthropy usually follows one of three strategies. The first involves giving funding to an existing charity. The second is coordinating in-house projects, in which companies direct their own activities. While this second strategy ensures control of how funding is spent, external credibility is limited. The third strategy involves partnering with non-corporate actors, often non-profit organisations.
The role of the private sector in contributing to Nigeria's education, particularly in tertiary education, is critical. The prioritisation of primary education by the global community due to the perceived higher returns in developing countries has resulted in an underinvestment in universities, leading to a decrease in their research and innovation capacities and a consequent brain drain from the Global South to the Global North. Moreover, since the beginning of the millennium, the number of university students has more than doubled. Therefore, strategic deployment of corporate assets can not only drive sustainable economic growth but also have a larger societal impact. These investments can yield higher benefits for corporations themselves, emphasising the importance of their strategic and impactful contribution to education.
By capitalising on existing gaps, companies can invest in research and development within tertiary education institutions to stimulate innovation and entrepreneurship, and strengthen the design and delivery of basic education. This not only enriches the institutions themselves, but it also contributes to Nigeria's overall economic expansion. Investment that aids in bridging the gap between academia and industry, can spur the development of new technologies and products that can potentially address the nation's socio-economic issues.
Forging Ahead – Practical Steps
To improve effectiveness and deepen the impact of education investments, companies should collaborate with one another and with educational institutions to pinpoint areas of need and devise specific solutions. This process may involve exchanging successful strategies, consolidating resources, and synchronising activities. Moreover, alignment of private sector efforts with national education priorities and policies can be achieved through collaboration with the government. As van Fleet highlighted in his 2011 report on Harnessing Corporate Philanthropy to Educate the World's Poor, companies should strive to exploit their comparative advantages to optimise the mutual benefit for both business and global education. By coordinating efforts around effective interventions, the private sector can make a substantial contribution to enhancing educational outcomes in Nigeria.
Van Fleet's 2011 report highlighted ten opportunities for improving the impact of private sector investments in education. These opportunities include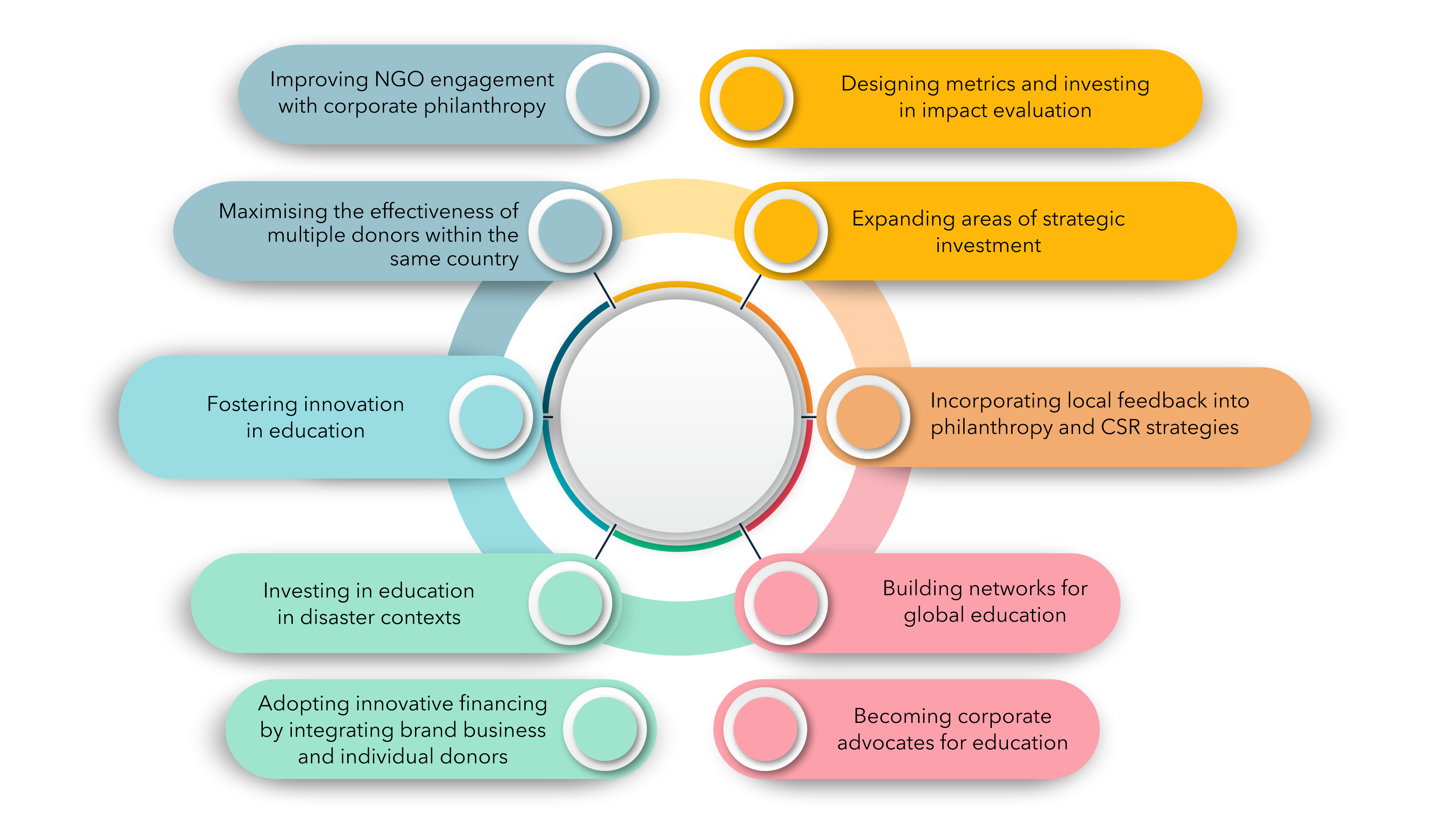 The private sector, through strategic investments and collaborations, can significantly enhance Nigeria's education system, from basic to tertiary levels. The global trend of prioritising primary education has unintentionally led to a relative underinvestment in higher education, negatively impacting Nigeria's research and innovation capacity. However, the potential for the private sector to step in and fill this gap is immense. Companies can strategically channel their resources into stimulating innovation and entrepreneurship in tertiary institutions, providing vital practical experiences for graduates, and bridging the gap between academia and industry. Supporting tertiary institutions can also strengthen the way basic education is developed and delivered in Nigeria. Furthermore, implementing the opportunities identified in Van Fleet's 2011 report can help to maximise the impact of these investments.
Ensuring deep impact is not just about the investment; it's about how strategically these resources are allocated, ensuring they align with national education policies and address specific areas of need. With a well-crafted strategy and the right collaborations, the private sector can make a substantial contribution to Nigeria's education system and ultimately its socio-economic growth, underscoring the mutually beneficial relationship between business and global education.